It seems to be a problem that my old Gigabyte EX58-UD4P mainboard doesn't support a base frequency over 150 MHz with this CPU, resulting a maximum core clock of 3.3 GHz for all cores (Old post). I tried all available bios firmwares, but none was able to POST with a higher base frequency. It was possible to overclock while running Windows 7 using the Gigabyte EasyTune 6 tool. But this solution isn't satisfying for a daily use.
The new Gigabyte GA-X58A-UD7
So I bought a used Gigabyte GA-X58A-UD7 mainboard on ebay, conversely sold my EX58-UD4P also on ebay. My trading luck resulted in a better mainboard with no additional charge.
So here are the results: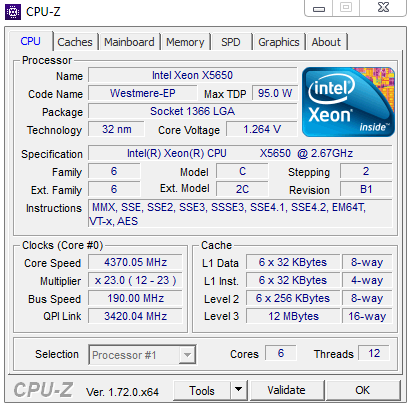 This is the maximum clock without having temperature problems, caused by the increased core voltage. But it is quite impressive, considering I use just a mid class air cooler (Scythe Mugen 2). The RAM was running with 1520 MHz.
I also tried a more moderate setting (1440 MHz RAM):
Benchmarks
The Truecrypt (7.1a 1 GB Mean AES) performance increases, due to the higher core, cache and RAM speeds.
Version: SiSoft Sandra Lite 2015 v21.27
As expected the Power Consumption rises up to 285 Watt (whole system), due to the increased chipset and CPU voltage. Those values were measured while running Cinebench 15.0 on one and all cores.
All in all I will use the moderate setting in my daily use, because the extreme setting has a worse Performance to Power Consumption ratio.
In addition the new mainboard bring USB 3.0 and SATA 6.0 Gbit/s along. These extra chips also result in the higher Power Consumption of the new measured values.
As always, feel free to comment, if you liked this post or have questions.